14


October
Greetings from Urdhva Tech!
Are you wondering, what your competitors do better than you, to get in touch with leads? Are they paying bunch to get the hot leads from market? Are they just grabbing random but handsome amount of leads from social platforms? Are they hiring lead generators?
We have an add-on which will eliminate all of the above needs – "Lead Grabber" – a free Google Chrome extension and make you perform best in communicating with Leads to generate business.
LeadGrabber is Chrome Extension which is free to download. Transferring LinkedIn® and XING® profile information to SugarCRM or SuiteCRM. The extension only fetches the information that is publically available on the LinkedIn / XING user's page.
What it does? I'm sure you are spending at least 10 minutes a day on LinkedIn / XING for new connects. This extension will make your 10 minutes a worth!
Wondering how? Let's do some initial steps and get the ball rolling.
Step 1: Search – Install
Go to Chrome Store and search for "Lead Grabber" or hit this link > https://chrome.google.com/webstore/detail/leadgrabber/hhmebibdfmdlolobhfbhinjbhggcbcgk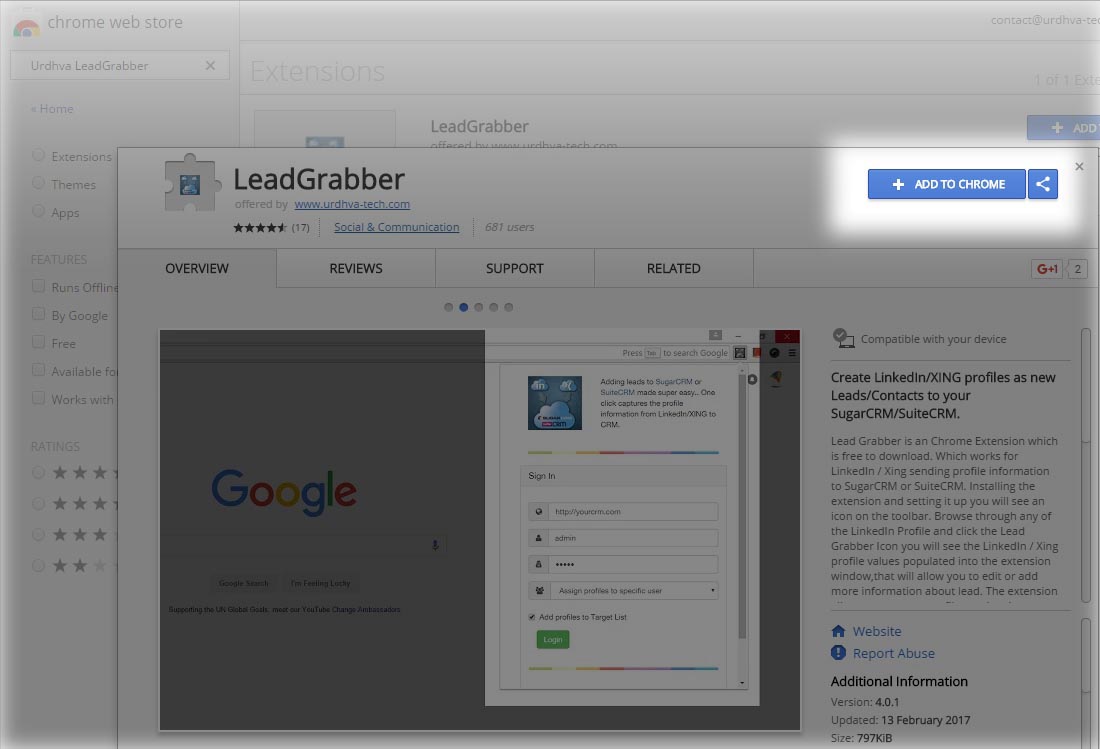 Hit "ADD TO CHROME" button, and surely allow the Extension to be added to your browser.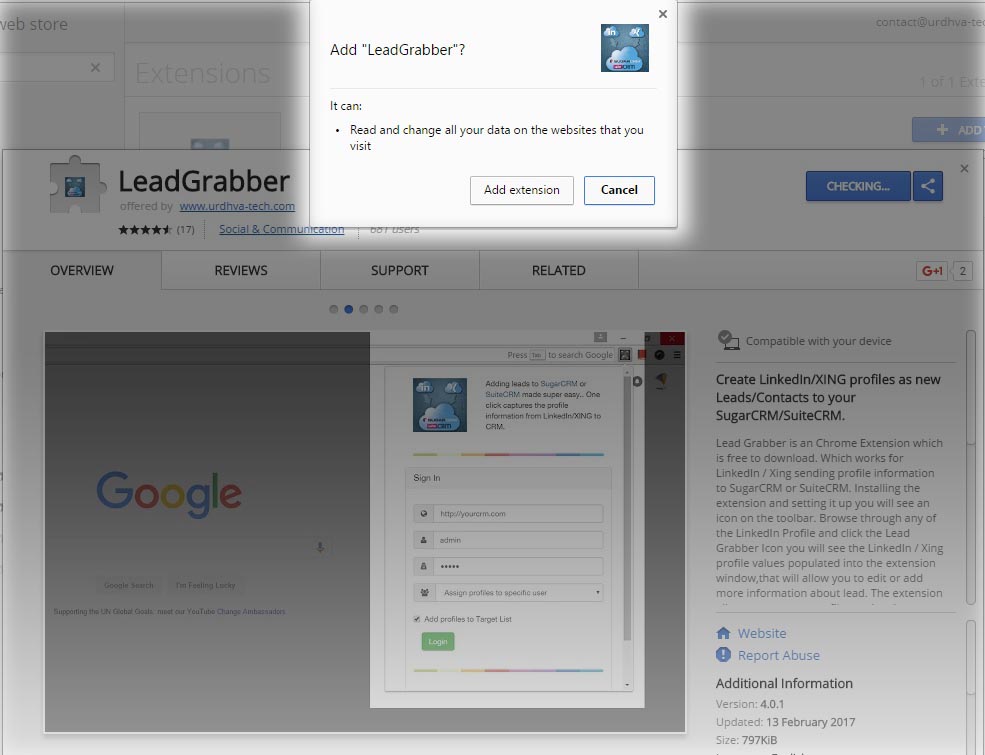 Step 2: Configure
After successful installation of the extension, you will have an icon next to address bar, hit it.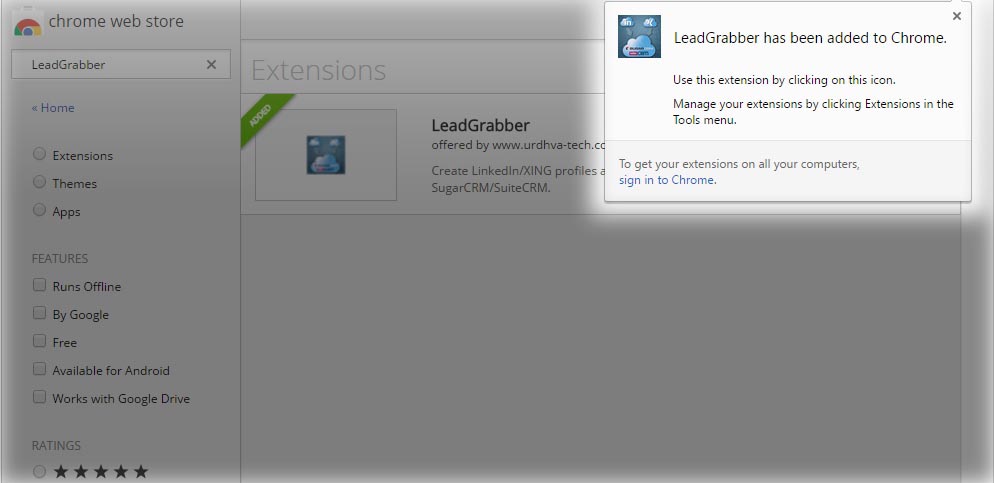 Give correct SugarCRM/SuiteCRM URL without index.php and provide your User Name and Password, and hit "Login"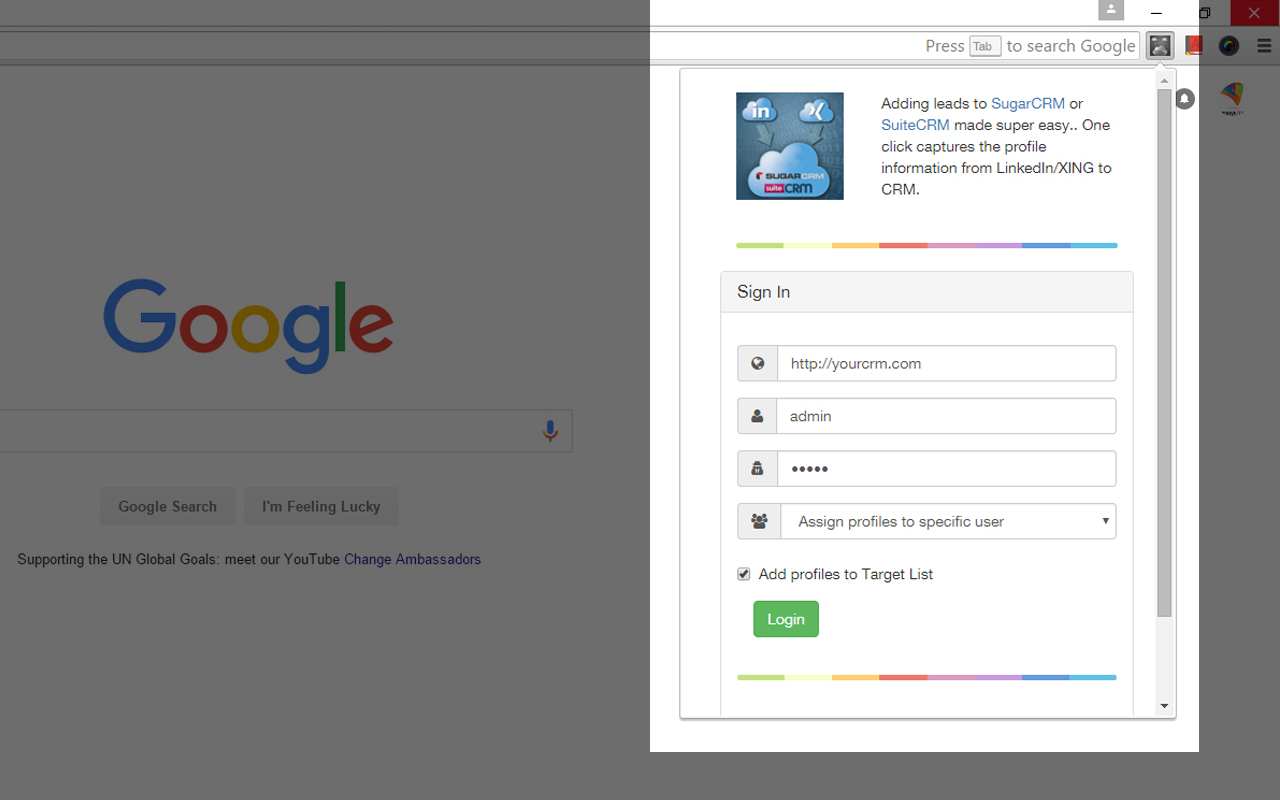 Be assured, these credentials are safe and secured on the browser you are using. We, Urdhva Tech, don't fetch anything from the extension.
Step 3: Rock and Roll
From now on, whenever you are on LinkedIn / XING and want to save your new connections to your CRM system, just hit the "Lead Grabber" icon, and it will grab all the public details from LinkedIn / XING to an editable form.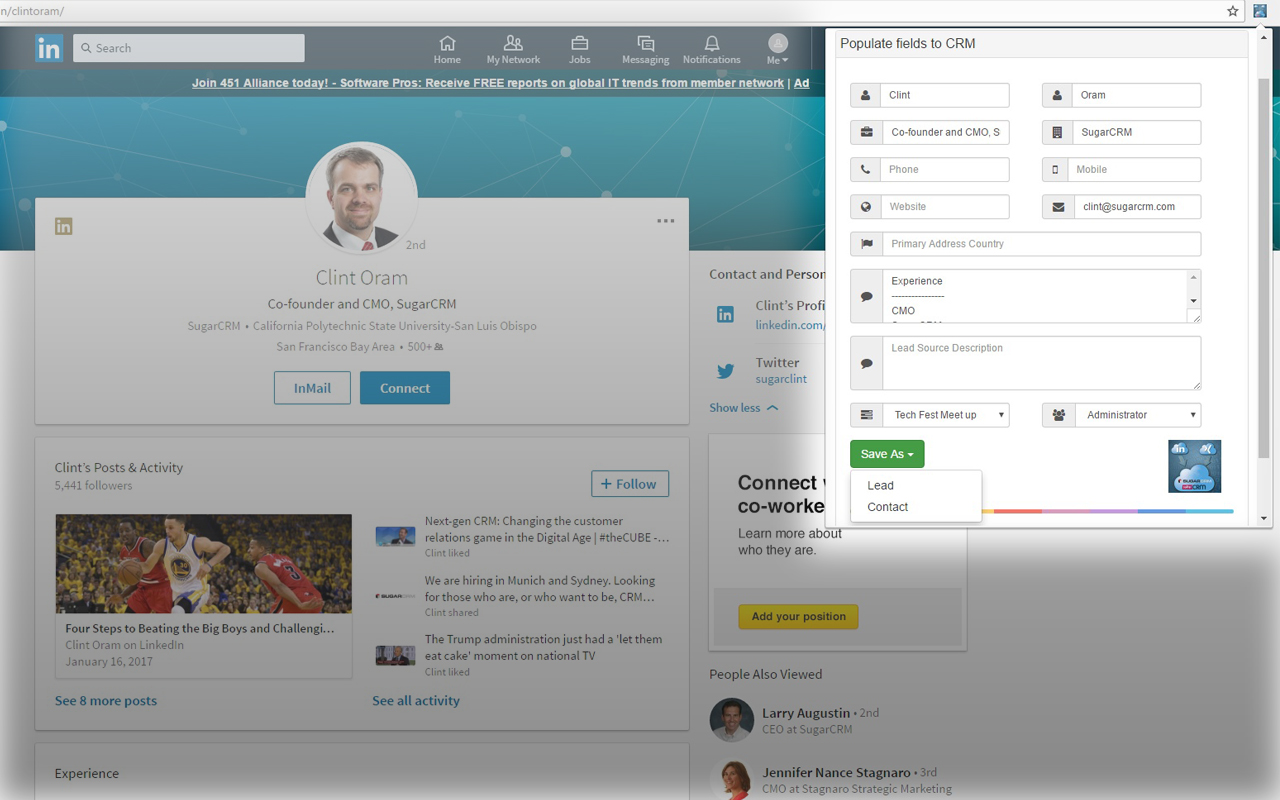 Not only you can edit the details, you can add description, and also, choose to create a Lead / Contact in your CRM system, how cool is that?
Once you click on Save as Lead/Contact, you will have message "Lead/Contact created successfully". You will have link for opening record into CRM next to "Done" button. Once record is saved, icon of Lead Grabber turns it to green color for that profile only and it won't allow you to enter it again.
If you checked Add profiles to target list during setting screen, you will have dropdown of available target list to select. It will automatically add created Lead or Contact to selected target list.
Recently LinkedIn has redesigned its site. It is complete redesigned with a simpler, app-like look and updated search features.
With the changes made by LinkedIn in showing profiles in a new way, You may have noticed that on new profile layout all the information are not prepopulated at once. You have to keep scrolling down the profile to see more information which loads rest of the profile information. Also you have to click on 'Show more' which loads up Phones, Emails, Public profile URL etc.
With this restriction of loading data, The LeadGrabber will only be able to retrieve data that is available on the page. So if you are looking for retrieving more information of the profile you have to preload all the information on the screen by scrolling down and clicking on 'Show more', Before you send the profile information to CRM.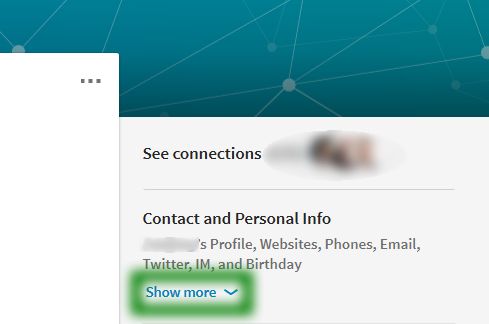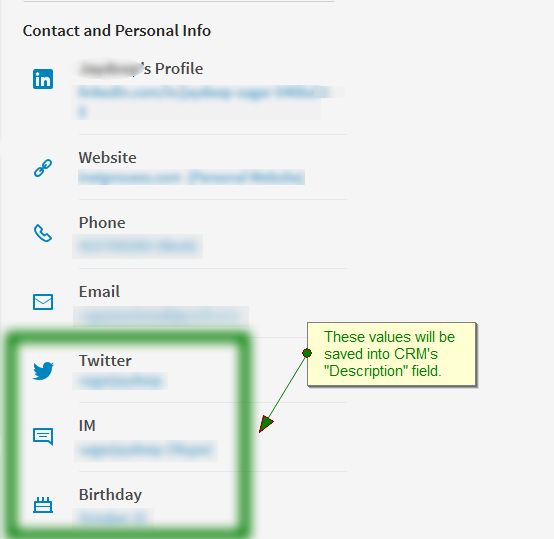 LeadGrabber will also save following listed LinkedIn profile section into CRM's "Description" field. 
Experience
Patents
Featured Skills & Endorsements
Languages
Education
Certifications
Publications
Volunteering Experience & Causes
Step 4: Merge Duplicate
While saving new record, if similar email address is found with the Account Name or Primary Address Country for Leads and if similar email address is found with the Primary Address Country for Contacts into the SugarCRM / SuiteCRM, LeadGrabber will warn you about possible duplication.
You will have list of duplicate records to merge with existing record. You can also either cancel it out or ignore the duplication and create new record.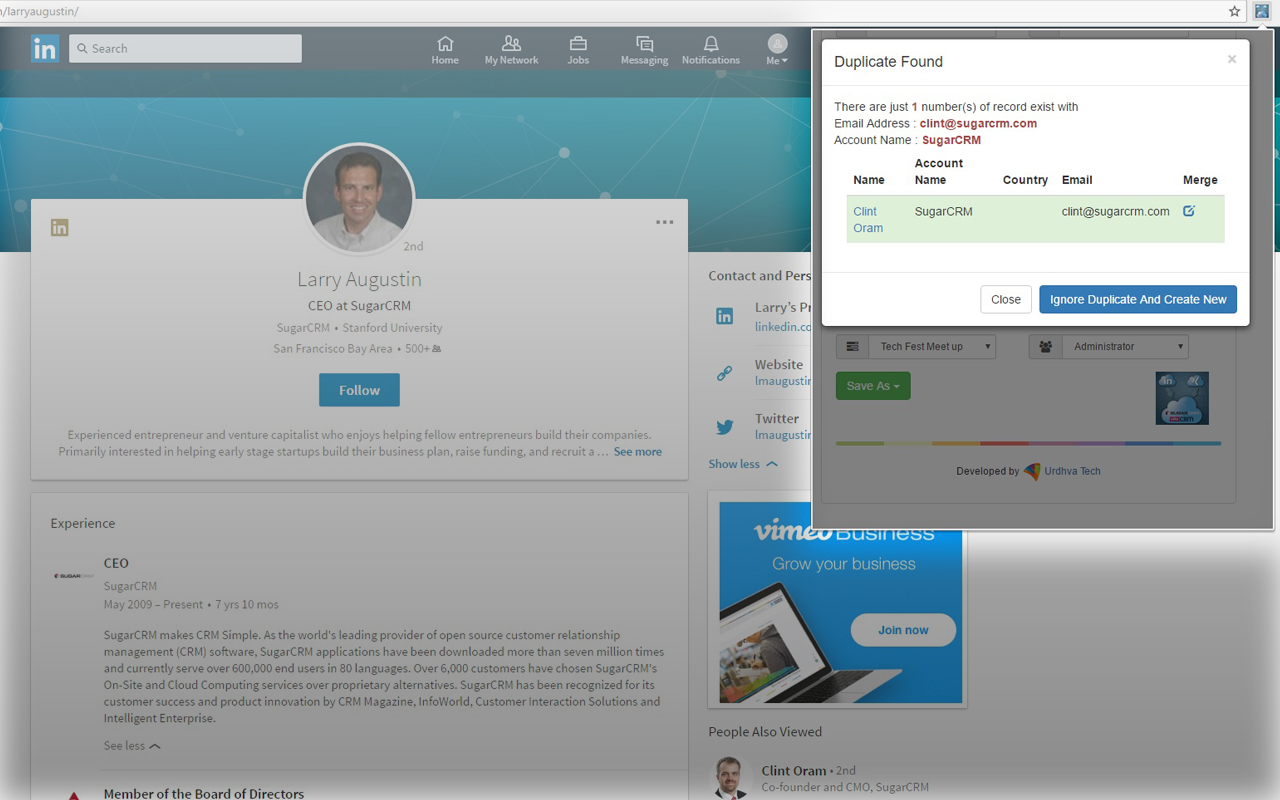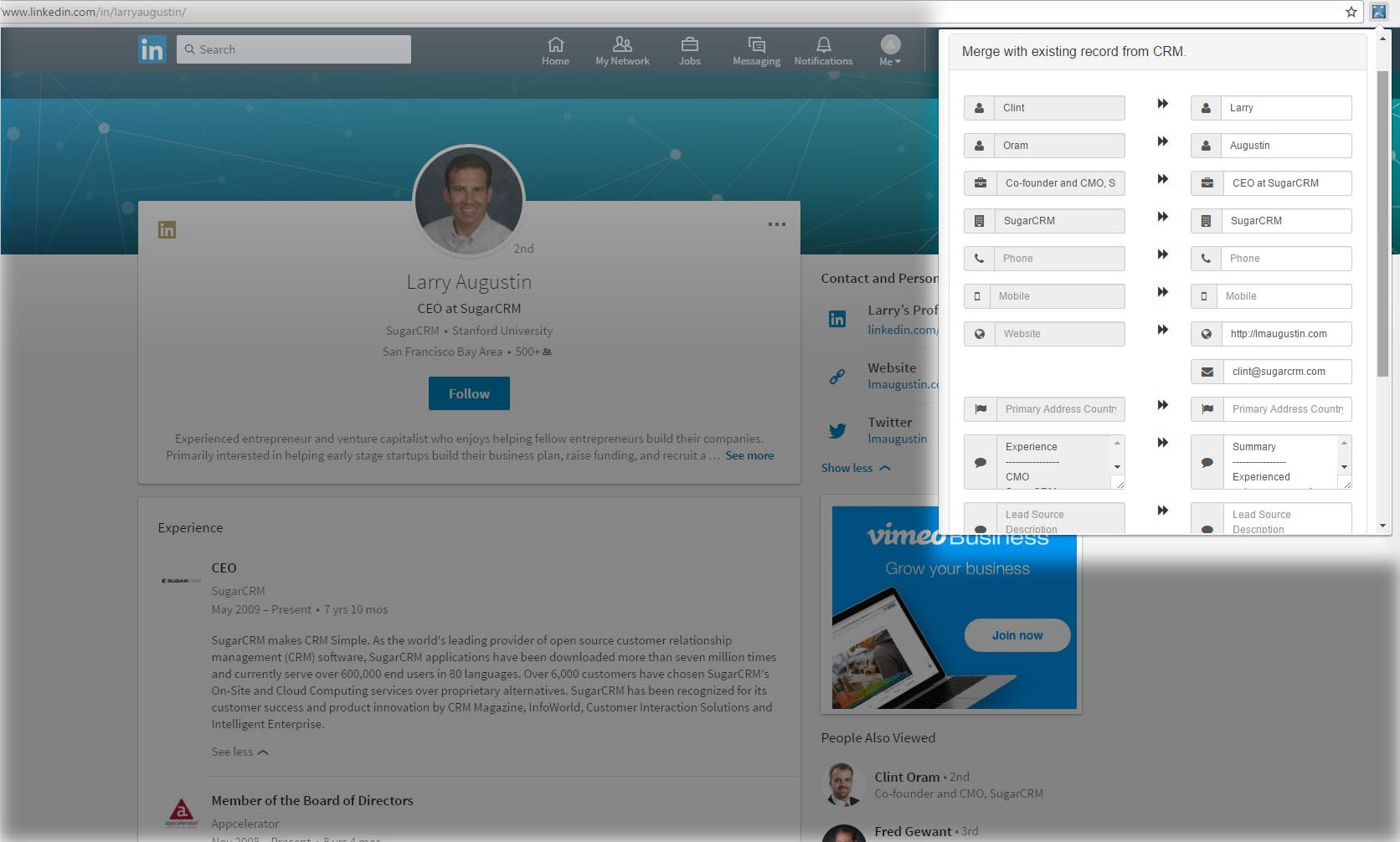 Here you can merge field one-to-one with existing records by just click on arrow key. You will have control over merge records while duplicate found! 
Step 5: Create Lead/Contact via Xing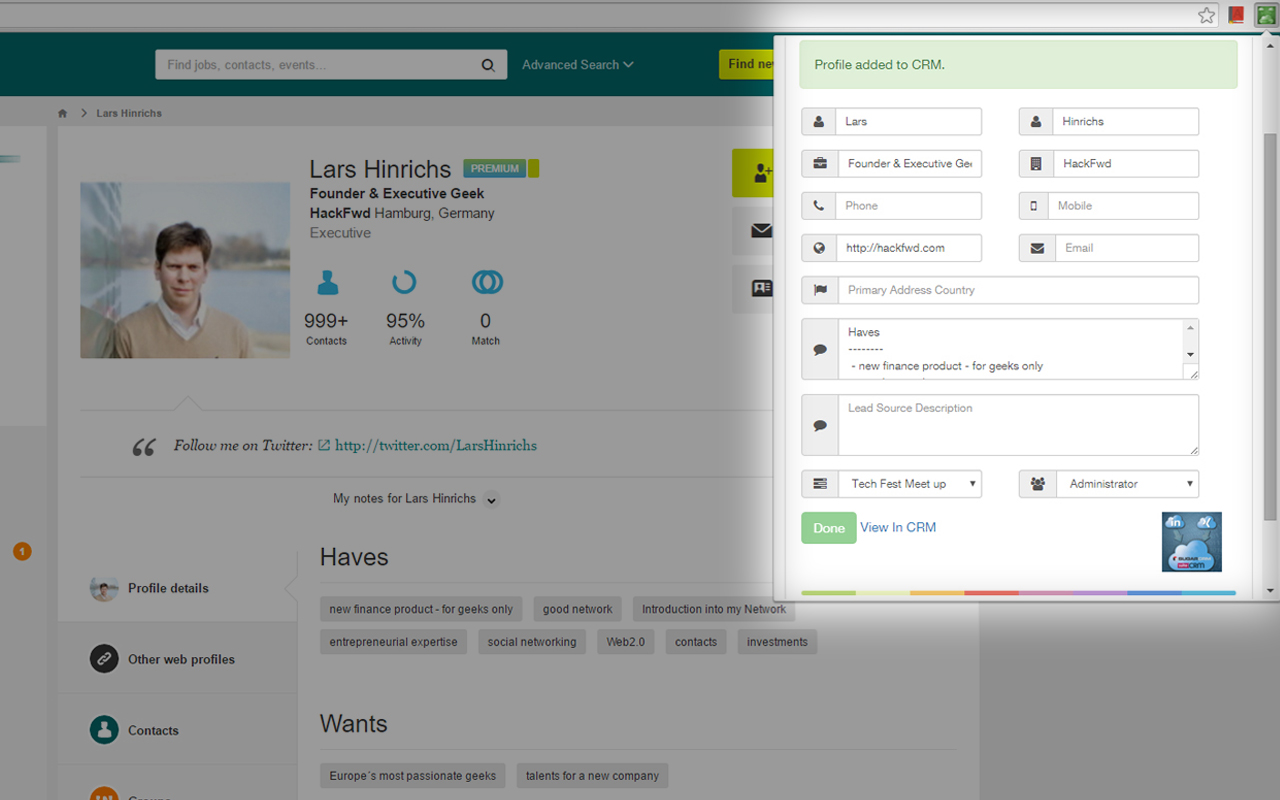 As in LinkedIn, You can also create Lead/Contact via XING profile too.
If profile is already exist, you will have option to go directly to the detail of that record into your CRM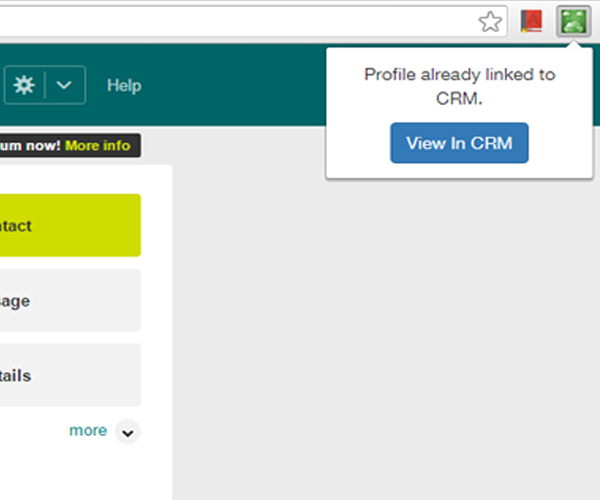 You are actually sipping your morning coffee and generating business together!
And BTW, don't settle for less – take best advantage of the extension.
Import LinkedIn profile to SugarCRM or SuiteCRM
Import Xing profile to SugarCRM or SuiteCRM
Identify the duplicate records and allow user to merge record
Get the profiles either Contact or Lead in to SugarCRM or SuiteCRM
Assign Lead directly to Sales User
Relate profile to specific Target List
Jump to view the record in CRM at a click of button
Color coded icon (Blue  – Ready to get into CRM, Green  – Already in CRM, Gray  – Not ready for capture)
If you use it, like it, please share it! Drop reviews that can help everyone out there.