Customer support portal for SugarCRM and SuiteCRM
Customer Portal enables you to provide customers with highly personalized, interactive service on the Web. Your customers will be able to receive answers to their questions, complete transactions, submit support issues and query your knowledge base. With an open line of communication, and a range of self-service options, you'll boost customer satisfaction as well as long-term retention.
The Web & Mobile compatible, highly customizable customer support portal for SugarCRM and SuiteCRM. Our approach for a Responsive SugarCRM and SuiteCRM Web Portal is an integrated, adaptable portal solution, which helps you and your company to rise to the next level in your customer relations.
Self Service Customer Portal by Urdhva Tech, allows companies to provide self-service capabilities to customers for support activities. This new functionality enables customer to log and manage support cases, bugs online, lead generation and gives users the ability to manage subscriptions to company communications in an automated fashion. All information from the Customer Self-Service Portal is automatically updated within SugarCRM/SuiteCRM, eliminating redundant or manual information processing.
The Customer Portal is delivered via an installable piece of software that acts as a gateway between customer-facing Web sites and a company's SugarCRM or SuiteCRM implementation. Information transmitted through the Customer Self-Service Portal is encrypted at the data level and authenticated against the SugarCRM/SuiteCRM database.
Available for SuiteCRM and SugarCRM version greater than 6.5 for Community, Professional, Corporate, Enterprise and Ultimate Editions.

We are here to ensure that you are successful. If you have unique needs such as needing support for additional modules (including custom modules) please contact us and we will be happy to help you.
Customer portal is now enabled with Bootstrap 3, with latest features, as Bootstrap 3 is by default enabled with mobile first and responsive.
Key Benefits
 Customers can enter trouble tickets by logging onto your site and can access personalized content and relevant support documentation.
 Provide automatic receipt confirmation for a service request with a case number.
 Provide password-protected access to key customer support tools, such as Knowledge Base.
 Customers can update their own profiles, view their case or bug histories, check their case status and log new case around the clock.
 Customer can request for a call assistance for your product and service.
 Customer can schdule a meeting request with your sales representative.
 Customer can provide important leads and opportunities to your business.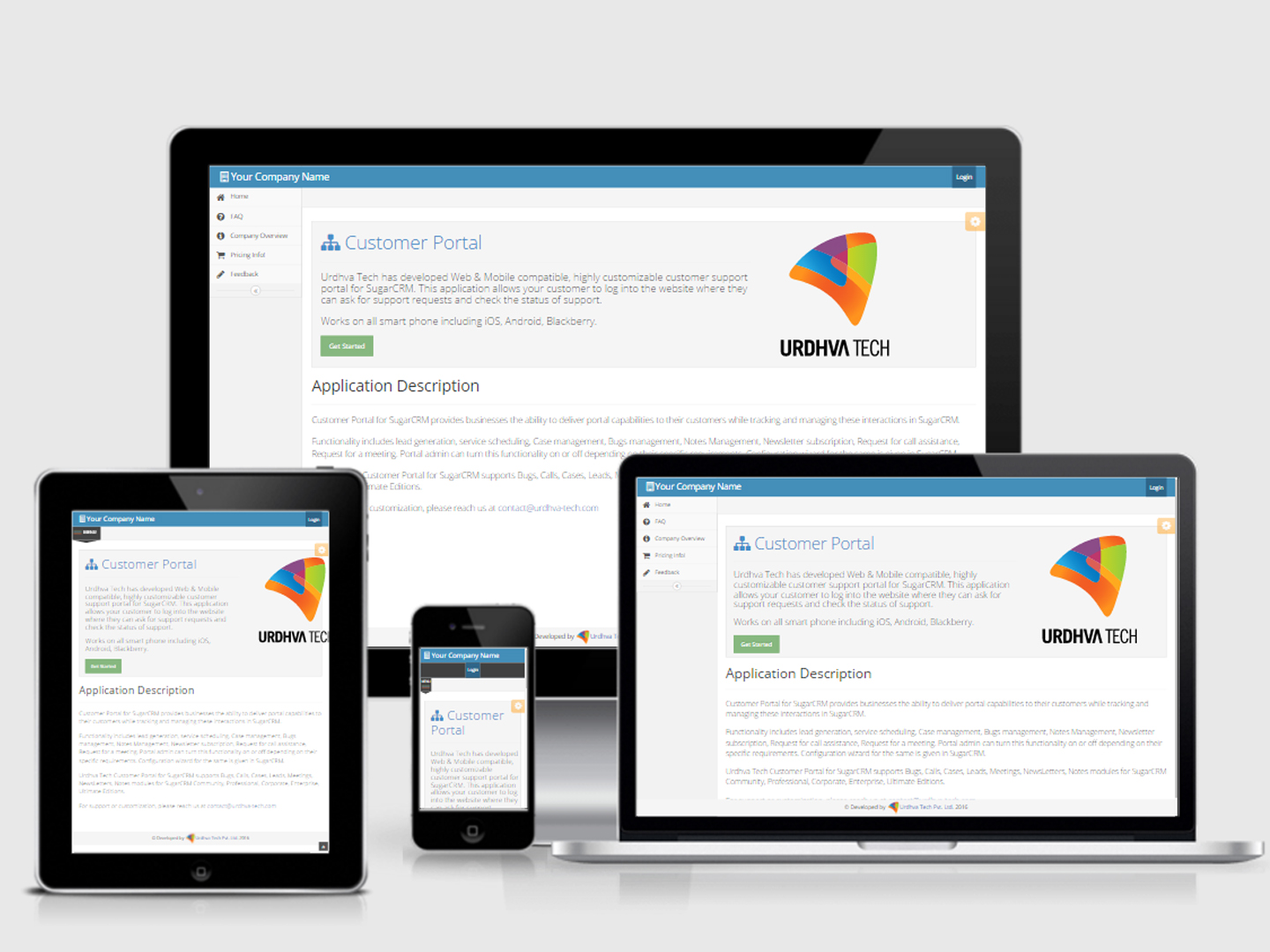 ---
Why Do Companies Create Online Customer Portals?
 Reason #1) Online Customer Portals Provide a Self-Service Option and Lower Support Costs
 Reason #2) Online Customer Portals Provide A Place to Centralize Information and Tools
 Reason #3) Online Customer Portals Provide Scalable Customer Relationship Management
 Reason #4) Knowledge Management Software - Easy to Find Answers
Other Usages of customer portal
 Supplier Portal: A supplier will log on to a customer portal to enter his products and services
 Buyer Portal: A buyer will log on to a customer portal to search for products & service, view their invoice or view their order histories, check their order status and place new orders around the clock
 Freelancer Portal: A freelancer will log on to the portal to search for the projects or jobs, bid for the job, view their invoice
 Client Portal: A customer will log on to the portal to outsource the job/project to freelancer, view quotation, track project progress, make payments, register bugs and support issues
---
Features
 Responsive Layout for smart phone including iOS, Android, Blackberry.
 Portal users are created as Contacts in SugarCRM – no additional licenses required
 Bi-directional – updates in SugarCRM Cases, Bugs, Leads etc are reflected in Portal and vice versa.
 Supported modules Cases, Bugs, Leads, Notes.
 Subscription Management - Customers can select and manage their subscriptions to newsletters.
 Request for call assistance and meeting.
 Sign Up and forgot password facility.
 Compatible with SuiteCRM and SugarCRM Community, Professional, Corporate, Enterprise and Ultimate Editions.
---
Download User Guide
---
---
See the various screens of customer portal on sugar interface. Different layouts, Portal Configuration, Module configurations, Configuring layouts for portal, Setting access to the modules, Mass generation and sending the credentials to the customer.
Plug-and-play Portal for SugarCRM
 Complete interface to configure customer portal from SugarCRM/SuiteCRM.
 Manage the list of modules you want to grant access to, to your customers, from SugarCRM/SuiteCRM.
 Manage layouts of portal directly from SugarCRM or SuiteCRM.
 Hide the fields you don't want your customers to see.
 Restrict the permission of editing and deleting a records.
 Mass generate and email the credentials to the customer.
---
Download Admin Guide
---
Buy Once!
Request a Quote
Unlimited SugarCRM Users
1 Domain
Unlimited Support within 1 business day