Duplicate cleaner is designed to find duplicates entries and allow user or system to merge them based on duplicate rules.
Duplicate Cleaner
Duplicate cleaner is SuiteCRM Add-on that allows you to setup a rules to find duplicate data in your SuiteCRM and helps you eliminate duplicates manually or automatically by merging facility. It supports multiple number of duplicate detection rules that you can configure from admin.
We've all dealt with duplicate data before. Whether we upload it ourselves into our SuiteCRM's through a data import function or mistakenly create a second entry manually, data is entered by a source from outside your company, or data is integrated from different source systems that bypass data validation rules.
Good data, especially good Sales data adds great value to your company because it leads directly to growing income, and therefore, greater success for your company. In many cases, if you have duplicate records may affects the value of our brand for example, You end up sending the same marketing records to the duplicate record, What happens? The customer feels like a number and not a person. They end up sending your messages to spam and blocking your calls. Also, the customer will no longer trust you with their records.
Bad data, on the other hand has the opposite effect. Bad data isn't necessarily the fault of the users. Bad data happens simply because details can change. At the same time, users may forget to remove old records. So, it's important to have a system in place to get rid of duplicates.
---
---
A Duplicate cleaner for

SuiteCRM
---
A messy database doesn't just make your data feel cluttered - it can also have a tangible negative impact on your business' effectiveness and your bottom line. A company's decision maker can change from year to year or every other year. It's difficult to keep up with this pace of change, but it's important for data accuracy.
The good news is with our add-on, Duplicate cleaner deal with duplicate records based on the rules you setup and it helps to cleanup the data both way by auto merge or the manual merge.
---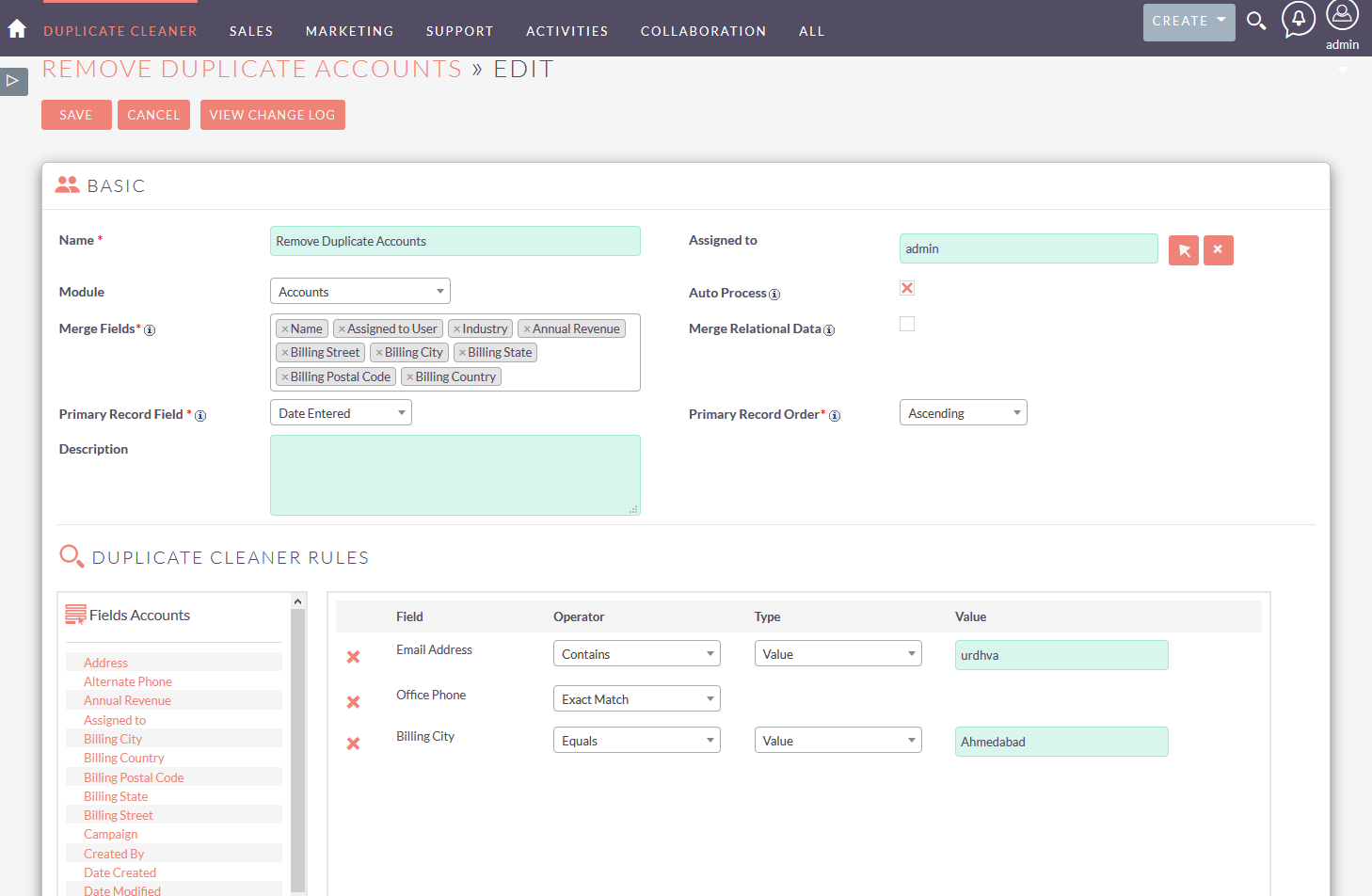 ---
All module support
Duplicate cleaner allows you to setup a duplicate search rules for any modules weather the modules is core module or custom modules. It also supports custom fields too.
Multiple Rule support
Add-on configuration will have multiple rules to setup based on the field type. You will have an option to set up rules. For Example, You will have field type text, It will have selections like Equals, Does Not Equal, Contains, Does Not Contain, Starts With, Ends With, Exact Match, Is Empty, Is Not Empty, etc...
Merge facility
A duplicate cleaner has two options Auto merge and Manual merge. In Auto merge, It will search for data based on the duplication rules and merge records based on the settings of auto-merge. It will merge records based on the primary record field you have selected. In Manual merge, Similarly this will search duplicates based on the rules and show you the list of the records in the Duplicates module. You will have merge icons on each records.
Merge relational data
A duplicate cleaner not only just remove duplicate records, It merged with parent records as well as gives you the possibility to relationships that belonging to the duplicate records will be merged to the primary record meaning that any calls, meetings, tasks, and cases, etc. related to the duplicate record(s) will automatically be related to the resulting, merged record.
---