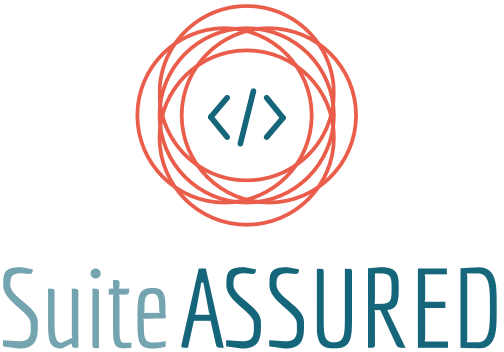 ---
SuiteASSURED is an open-source CRM software, which is separately maintained by SuiteCRM Team. Even though they have the same core codebase,  But SuiteASSURED has separate internal and 3rd party security auditing. SuiteASSURED provides specific guarantees, warranties that are not to SuiteCRM users.
SuiteASSURED have flexibility and innovation of open-source as well as the security and stability of proprietary CRM platforms to give users the best of both.SuiteASSURED is an open-source platform and is associated with Open Invention Network (OIN). It shares a common code base with SuiteCRM, with added benefits that solve compliance related issues faced by large enterprises. Below are the key benefits of the SuiteASSURED.
Security
SuiteASSURED is subject to regular vulnerability scanning and penetration testing by the internal product development team and by independent, accredited third party code security partners. Vulnerability and penetration testing occurs throughout the development life cycle for all releases.Still if you run into something, You may contact right away with dedicated portal for SuiteASSURED customer.
Care hours
with SuiteASSURED you get an amount of total care hours (depending on your number of users) to spend freely on user and technical support, training, consulting and custom development, provided by SalesAgility, combined with easily accessible online resources. This will enable your business to use the CRM in the most efficient way and quickly resolve any issue
Warranties
SuiteASSURED warrants that the copyrights in the software are owned by or have been licensed to SalesAgility and we have the right to distribute the Software (copyright warranty). Further warranties state that the software is free from significant programming errors and defects in workmanship (quality warranty).
Stable Code
A SuiteASSURED comes with Long Term Support (LTS) releases, An LTS will follow an 18 month release cycle and provide critical bug fixes, security fixes and other defect resolutions. As SuiteASSURED Code that is deemed "experimental" is removed from SuiteASSURED leaving only the robust, mature functionality, guaranteeing greater stability.
We Urdhva Tech, A Proud SuiteCRM Partner , have team of skilled developers for the SuiteCRM/SuiteASSURED framework and architecture. If you want to have tailor-made customization, we have plenty of customized integration and projects dedicated to SuiteCRM. Feel free to touch base for any suitecrm customization, custom workflows, custom themes, and custom modules.