25


September
Thank you for following the Tour. In case you landed up directly to this page, following is the Index.
Assumed, you have installed SugarCRM. Admin - The king, will be proven by the end of the article.
This article will concentrate on features available in Community Edition
(v6.5.15)

. Stay tuned for PRO+ features for Admin.

Lets take section by section.

User management
As an administrator, you are privileged to create users.
Admin > Users Section > User management > Create Users.
Fill up your user's details. Here the 'User' is your employee and not your client. User can be your staff member or co-admin. Choose correct user type. Admin is someone with most privileges and gets access to all data. So be careful choosing user type.
[Loved how screen looks than what you have?

 

Buy the look!]
Role management
Your staff is whom you trust after your customers. Still it is wise to restrict access.
Admin > Users Section > Role management > Create role > give a name of your choice and save.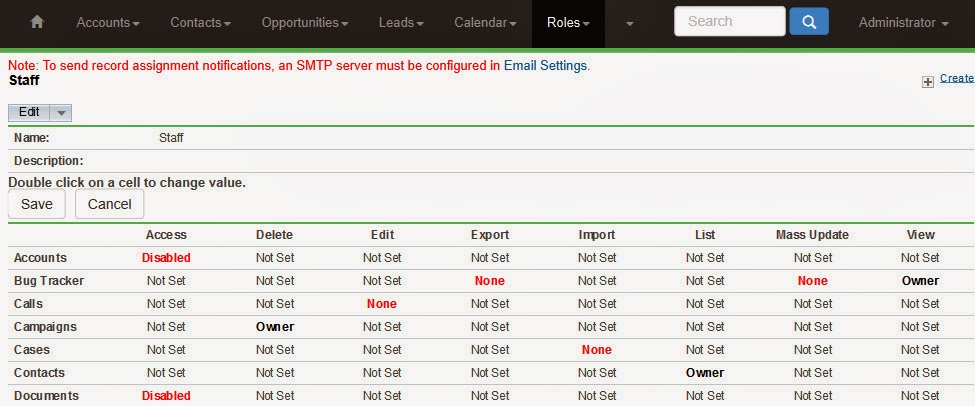 You get a list of modules and access type in x-axis. Double click on word 'Not set' and you will get choices.

To hide a module completely for a user, choose Access to be 'Disabled'.
Just to make user see details, choose edit to be 'None'.
To restrict user to Export or Import, choose 'None'.
To allow user to only see/delete records created/owned by himself choose List/Delete 'Owner'.
If you select View 'Owner', and keep List 'Not set', user will be able to see all records in list view, but detail view will be accessible for records owned by him.
[Loved how screen looks than what you have?

 

Buy the look!]
Password Management
Password management is crucial to ensure security to your valuable information. These settings make sure User's password are hard enough to guess and hack.
Admin > Users section > Password management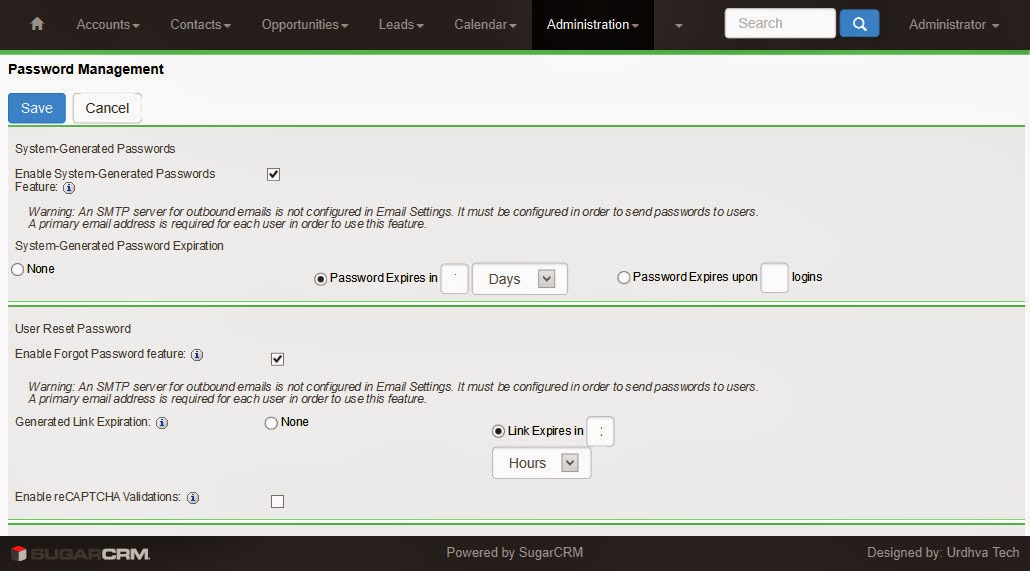 You can enable System-Generated Passwords. (Make sure you have email settings correctly configured. If not, you will see a notification on screen like in screen above.)
You can enforce password expiration in n-days or after n-logins.
You can enable/disable Forgot Password feature (This shows Forgot Password link in login page)
You can put extra security with Captcha (This makes sure it is human who enters the data)  
This section is so well explained and extra help is hidden in (i) icon. Click on it for extra specific information.
[Loved how screen looks than what you have?
Buy the look
!!]
Stay tuned for next article. Subscribe now to get updates of this series right in your INBOX.